Vicki is a homeowner in Charlotte, NC and has a smaller pond. She was getting ready to have family in a few weeks and wanted to make sure everything looked beautiful. She went out to check on her pond and noticed some weeds growing up from the bottom. She contacted the Clemson Extension office, and they determined it was Hydrilla, Eurasian Water Milfoil, and Curly Pondweed.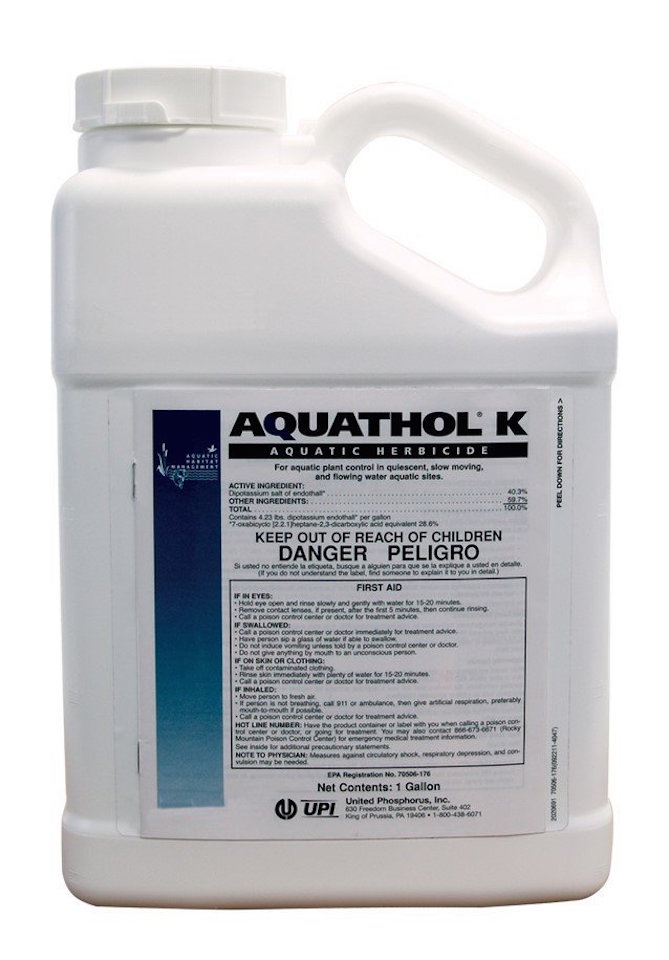 In what seemed like overnight, her pond had been taken over by the large beds of algae and aquatic weeds. She was so embarrassed for her out of town family to come.
Finally, after trying every product in the catalog, Vicki became a member at Platinum Ponds and Lake Management so she could ensure a healthy and beautiful pond. She was so relieved to know she would have a healthy and beautiful pond for her and her family to relax by when they got in town.
We knew Aquathol would be best for Vicki's pond. Aquathol is an excellent aquatic habitat management tool that can provide season-long control of a variety of submerged aquatic weeds found in small lakes and ponds. It's a selective and quick-acting contact liquid herbicide. It generally takes care of aquatic weeds in 3-4 weeks, but you could see results in as little as a few days.
Aquathol is not toxic to fish when used as directed on the label. So you can insert it below the water surface for submerged weeds or on foliage above the water's surface. It needs to be applied on a calm day to keep the spray contained to target areas. For the best results, make sure the foliage is completely wet. Within a few days, before Vicki's family arrived, her pond was back to being healthy and beautiful.
Due to the fast activity, it can be efficiently used in slow-moving water, such as drainage and irrigation canals. Also, spot or marginal treatments are highly effective against noxious weeds and algae in lakes and ponds. Since it does not bind to the suspended sediment or organic matter, it's effective in murky or muddy water.
Summary
Hydrothol has been successfully used for over 50 years.

It's a liquid concentrate soluble in water which is effective against a broad range of aquatic plants.

Itcan provide season-long control of a large range of submerged weeds found in small ponds and lakes.

Great for use in muddy ponds.

It can be used on water bodies with both slowing moving or flowing water.

It begins working on contact with submerged weeds to break down cell structure and inhibit protein synthesis.

It's a contact herbicide; so apply when aquatic plants are present.

Can be used to control coontail, horned pondweed, naiad, American Pondweed, Floating-leaf, Sago Pondweed, Water Stargrass, Hydrilla, Eurasian Water Milfoil, Curly Pondweed, and a few more aquatic plants.

Recommended for use in lakes and waterways for the control of weeds growing below the surface.
Click here for the Material Data Safety Sheet
Taking care of your lake or pond is not a luxury, it's a necessity. As your local pond management professionals, we've been there. Let us help guide you as a member to protect, plan, and preserve your pond or lake if you live in the Charlotte NC, Asheville NC, and Greenville SC areas.
Get started. Become a member today!
---