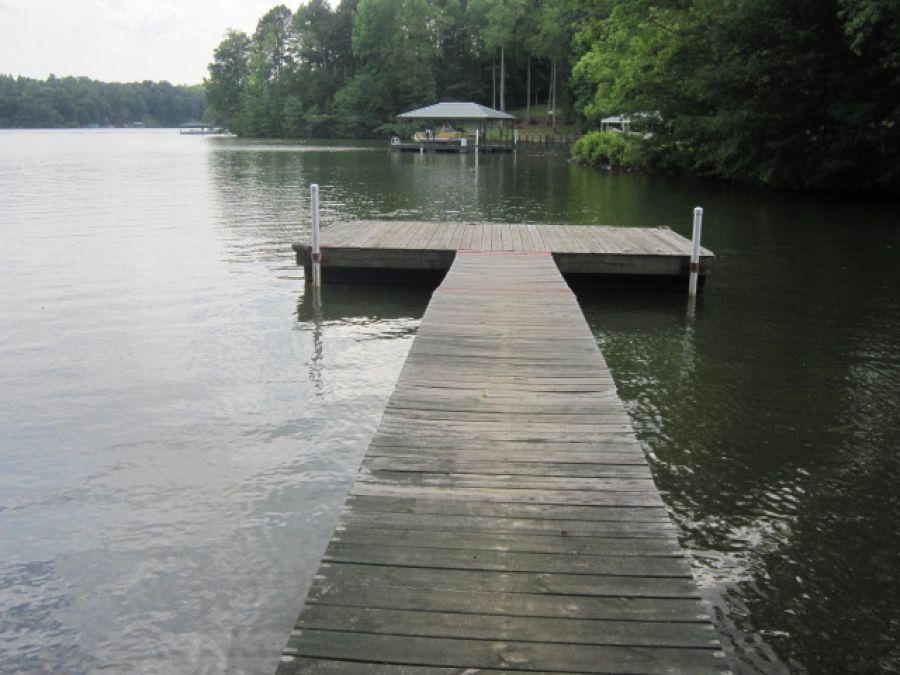 Many lake owners are finding their docks and boats swallowed up with aquatic weeds in our small lakes in Greenville & Spartanburg Counties.
To help, we have found the information below that many have been requesting as to what can be done.  Lake management plans take careful planning and implementation, and many have expressed frustration of seeing little results.
Spartanburg's multi-tiered approach for Lake Bowen is the safest and best way to correct the problem that did not happen overnight.  When working with nature, a dose of patience will always be needed.
If you wish to have aquatic weeds killed in front of your waterfront property on Lake Bowen, you will need to obtain a FREE permit from Spartanburg Water Authority before our visit. See more about lake and land permits here.
After talking to the warden on duty today, he said you will need to drop off the application or mail the General application below.  The process takes 2+ weeks to obtain the permit.
Once you have a permit in hand, we are then legally able to apply aquatic herbicides to the water around your boat dock in Lake Bowen.  The average application for a 200 ft waterfront is $500 per application.
Remember is illegal to treat any water in Lake Bowen without a permit and you must have a South Carolina Licensed Aquatic Herbicide Applicator perform the treating of your aquatic weeds.
Click here for an Application for a permit to apply aquatic herbicides
VIDEO: Bladderwort and the Ecosystem
FAQ's Lake Bowen - BladderWort & Aquatic Weeds
Bladderwort is a rootless, free-floating aquatic plant that is sometimes noticeable by its small, yellow flower protruding from the surface of the water.
The species is called Bladderwort because of its inherent bladder-like structures connected to the submerged segments of the plant. The plant is carnivorous and uses these bladders to capture tiny, aquatic organisms such as insect larvae and aquatic worms.
The plant affects not only navigation and recreation but also, and more importantly, the long-term sustainability of our drinking water and subsequent treatment efforts. However, despite its reputation as an invasive plant, Bladderwort is not harmful to the lake, its wildlife or those who live on the lake. In fact, according to biologists, it is, in reality, an indication of good water quality.
The plant itself is a completely normal and a viable part of any other freshwater lake.
Over the last several seasons, we have evaluated some methods to control the spread of Bladderwort and recognize that this must be a team effort with each of you. The most prevalent and effective method, to date, has been the introduction of sterilized triploid grass carp, a protected species, into the lake.
Because this fish feeds on aquatic plants and algae, it serves as a valuable biological tool to control some nuisance vegetation and algae. In the 1980s, Lake Bowen was the first lake in South Carolina to feature these carp as a method to control invasive plants, and we recently restocked the lake with an additional 1,000 fish for slowing Bladderwort's growth.
In 2014, Spartanburg Water employed mechanical harvesters, large machines that cut and collect aquatic, invasive plants like Bladderwort, to support our requirement of offering an environmentally friendly method of controlling excessive aquatic plant growth and nuisance vegetation.
We contracted the use of harvesters on the lake beginning in June and harvested in late July, focusing on priority locations that showed the highest density of Bladderwort.
While the harvesters did provide temporary relief, the invasive plant quickly repopulated approximately 50 percent of the area treated. Fortunately, these efforts helped to dramatically decrease the potential vegetative overgrowth impacts to the lake later on in the season and the following spring. 
In 2015, the next step in our Bladderwort reduction strategy has been the application of safe, non-toxic aquatic herbicides applied by the South Carolina Department of Natural Resources. The first application of herbicides was applied on June 16.
The area of treatment was focused upstream of the I-26 overpass and up to the headwaters. The second application of herbicides was used July 20. There were no significant interruptions to normal lake activities reported.
Should you have any additional questions regarding Bladderwort, please contact the Customer Service Department at (864) 582-6375. If you would like information about applying for a permit to hire a private aquatic herbicide applicator, please call the Lake Bowen Warden's Office at (864) 592-2240.
Check out this article in the Spartanburg Herald Newspaper on March 7, 1985, citing the same issues with Lake Bowen.
Do you think it will be a better plan than in 1985?
Taking care of your lake or pond is not a luxury, it's a necessity. As your local pond management professionals, we've been there. Let us help guide you as a member to protect, plan, and preserve your pond or lake if you live in the Charlotte NC, Asheville NC, and Greenville SC areas.
Get started. Become a member today!
---