"There are several major components of a wetpond and each contributes to the overall performance of the facility to treat stormwater runoff. Runoff is discharged into a forebay (similar to a sediment basin) which provides for settlement and pre-treatment of particulates before flowing into the central pond area for additional treatment.
After stormwater leaves the forebay area, it travels through the berm or over a weir in the berm separating the forebay from the pond storage area. The main body of the pond consists of a permanent deep water body area surrounded by an aquatic shelf. The aquatic shelf is a shallow sloped earth bench in which aquatic plants have been planted for nutrient uptake.
Most ponds are designed to store temporarily stormwater runoff for various storm events on top of the permanent pool elevation and are released over a specified period. The outlet structure, usually located at the downstream end of the pond, controls the discharge flow from the pond.
The outlet discharge has an energy dissipater downstream to protect the discharge channel from erosive measures from the outlet discharge. Some ponds may also have an overflow weir designed in the embankment to release large flows safely downstream during intense storms and to help protect the berm from failure.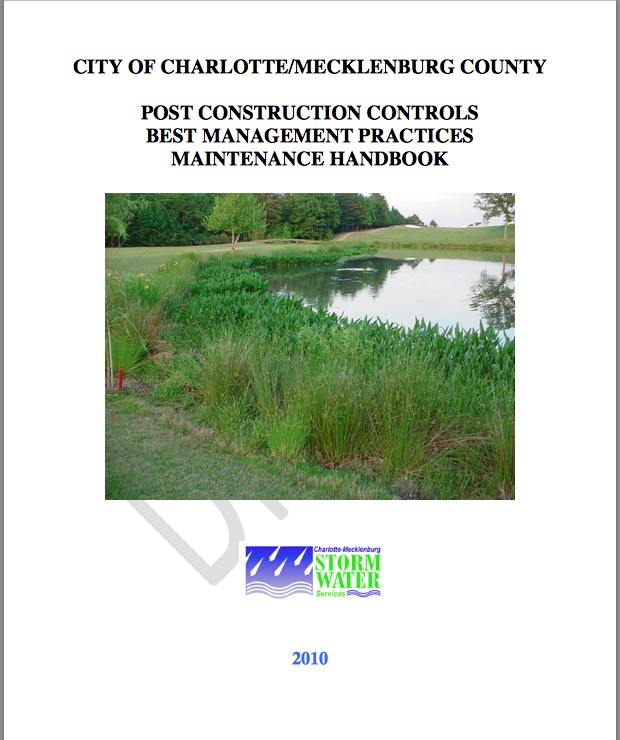 Maintenance activities for a wetpond facility are necessary to ensure the longevity of the water quality treatment expected from this type of BMP.  Inlets for the BMP are to be inspected and clear of debris to ensure bypass is not a concern.
Erosion within the drainage area contributing to a BMP has to be addressed to eliminate premature loss of storage within the forebay or main pond area. All outlet structures are to be kept clear of debris so the design discharge rates are not exceeded, and water quality treatment is provided." - Charlotte Stormwater Pond Maintenance Handbook for Homeowners and HOAs, p 9.
Download the Charlotte Stormwater Pond Maintenance Handbook
Taking care of your lake or pond is not a luxury, it's a necessity. As your local pond management professionals, we've been there. Let us help guide you as a member to protect, plan, and preserve your pond or lake if you live in the Charlotte NC, Asheville NC, and Greenville SC areas.
Get started. Become a member today!
---