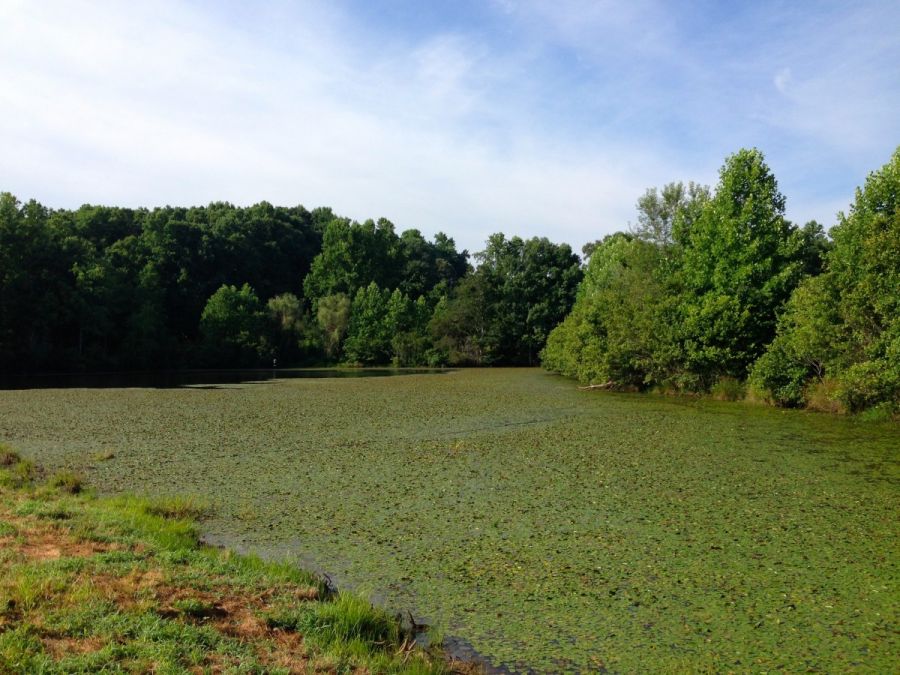 Are you looking for a solution to your aquatic weeds in Greenville or Spartanburg?  Searching for grass carp or fish to stock your pond in Greenville or Spartanburg?  Overwhelmed with algae choking your fishing in Charlotte or Asheville NC?
Aquatic management is the key to a healthy private pond or lake.  Unlike a large lake like Hartwell or Murray, small private ponds and lakes can not remain beautiful without aquatic management services to keep them from turning into a disaster.
One pond in particular that we treated with dollar bonnet aka water shield had completely overtaken then entire surface of a 3-acre farm pond.  This aquatic weed left unchecked without aquatic management quickly became unusable.
The water shield was so thick you could not even use a boat. And when they wanted to fish with the kids the bobber couldn't even hit the water.  But one of the greatest concerns our client had was that it was not beautiful enough for weddings.  One source of revenue for them was hosting wedding parties with the pond as a backdrop for photos.
These pond owners strained to manage their ponds themselves with products out of catalogs and felt like they were pouring their money down a drain with little results.
Inevitably these same pond owners with giving up and call a fish stocking business that will sell them grass carp.  However, what will a pond stocking company sell you?  A car?  Nope.  You go to a car dealer for that.  A pond stocking business is in the business of selling fish.
But what they will not be quick to tell you that grass carp…
typically take a couple of years to control aquatic weeds
that grass carp only eat significant amounts of aquatic weeds while they are "teenagers."
We have seen countless HOA ponds with grass carp over 3 feet long filled with aquatic weeds.  Why?  Because grass carp's metabolisms slow down when they become "grumpy old men."
The best solution for a private pond or lake is an aquatic management service that will regularly monitor the quality of the water, aquatic weeds, fish populations, and ensure that it is beautiful for generations to come.
What have you purchased for your pond that did not work?
Taking care of your lake or pond is not a luxury, it's a necessity. As your local pond management professionals, we've been there. Let us help guide you as a member to protect, plan, and preserve your pond or lake if you live in the Charlotte NC, Asheville NC, and Greenville SC areas.
Get started. Become a member today!
---