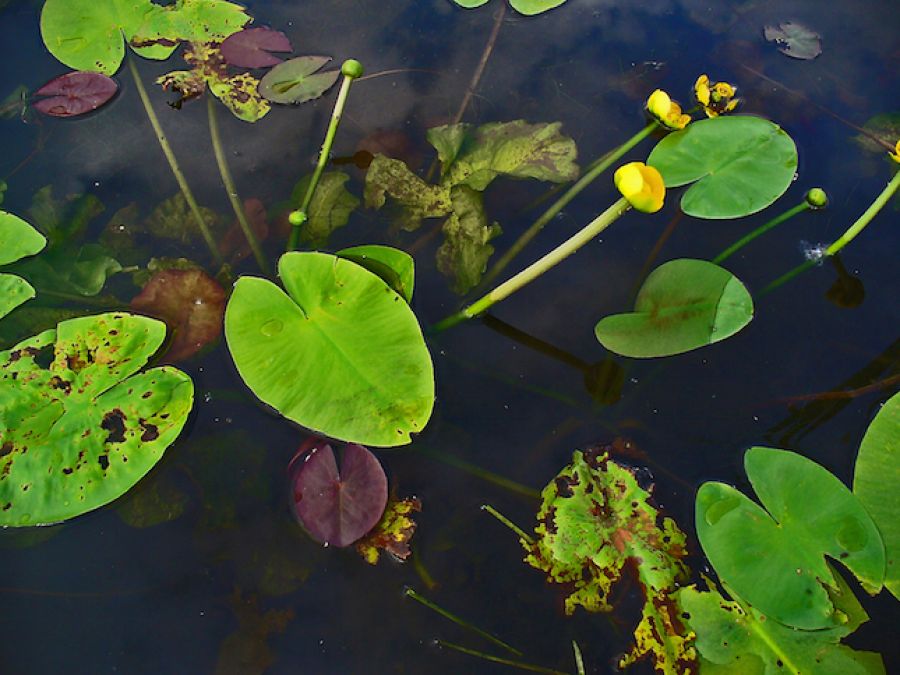 Spatterdock does not really look like a weed. That is why Tammy didn't think about getting rid of it.
It wasn't until it started spreading rapidly that she decided to give us a call. We explained this happens all the time because it is one weed that looks more like an attractive flower.
Tammy decided to become a member so she would have to worry about her pond not staying healthy.
What is Spatterdock?
Spatterdock (also known as a Cow Lily or pond lily) is a round, yellow-flowered water lily. It's scientific name is Nuphar lutea and it is in the Nymphaeaceae family (try saying that three times fast).
What does Spatterdock look like?
This perennial plant has heart-shaped leaves that range in size from 8-16 inches long by 10 inches wide. The flower is yellow and sits on the surface, or rises above the leaf. What makes this flower different is the "petals."
They do not open or close like other plants in the waterlily family. The roots are pretty tough. They have a semi-circle shaped and have leaf scars from the leaves in previous seasons.
How fast does Spatterdock grow?
If not watched closely and maintained, spatterdock can grow rapidly. If it gets out of hand and starts to cover the pond, light can't get through which can kill fish and other plants. The flower usually blooms between May and September.
How do I kill Spatterdock?
There are two different ways. The first is mechanical control. That means you pull up the entire root or ribosomes, or you can cut the spatterdock.
This way can be tough because it's a lot of labor. And when you do pull then up, the seeds can still spread, causing more spatterdock in different places. The second way is by using chemicals. A professional, like us, can come out and do what we do best, which is to make your pond or lake look beautiful!
Is it legal to apply aquatic herbicides in my private pond?  Click here to find out
Taking care of your lake or pond is not a luxury, it's a necessity. As your local pond management professionals, we've been there. Let us help guide you as a member to protect, plan, and preserve your pond or lake if you live in the Charlotte NC, Asheville NC, and Greenville SC areas.
Get started. Become a member today!
---