With the growing demand to grow Big & Healthy fish FAST, we have taken the plunge with a large investment in Texas Hunter feeding systems for our Members.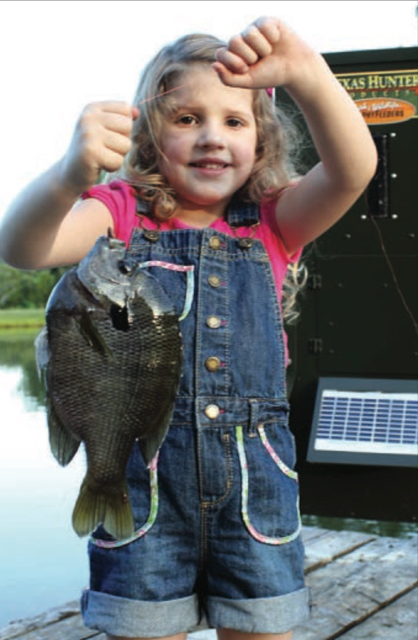 This is the time to feed your fish before their winter nap. Come Spring time they will awake with Big Appetites and need high protein to grow FAST!
We recommend the most popular LM 175 feeder with a solar battery charger for every 1-2 acres of fish. i.e. a five-acre pond would have two feeders on opposite sides. Engineered with advanced features for optimum performance, Texas Hunter Pro Series Directional Fish Feeders are designed for long-term durability. The Premium Digital Timer, a Texas Hunter exclusive, is a unique feature of the Pro series fish feeders.
Our dual motor system introduces a metered flow of feed into a powerful blower assembly. As a self-cleaning device, the feeder shuts off the feed flow motor before turning off the blower, eliminating any feed waste at the base of the feeder. To enhance their low- maintenance features, all Texas Hunter Pro Series Fish Feeders include a 5-year limited warranty on the ultra-reliable digital timer.
Low Profile Design Makes filling easy.
Extra Tough Powder-Coated Paint Includes a rust-resistant, durable Hunter Green Finish on the feeder, legs, and footpads.
Powerful Centrifugal Air Blower Assembly Projects feed in 20' x 45' wedge-shaped pattern.
Premium Digital Timer A Texas Hunter Exclusive with 5-Year Limited Warranty. Automatically feeds 1 to 9 times daily, 1 to 60 seconds per feeding.
Lifetime Durability Hopper, lid, and other internal components are constructed from heavy gauge galvanized steel.
Commercial-Grade Motors For long-term durability.
Taking care of your lake or pond is not a luxury, it's a necessity. As your local pond management professionals, we've been there. Let us help guide you as a member to protect, plan, and preserve your pond or lake if you live in the Charlotte NC, Asheville NC, and Greenville SC areas.
Get started. Become a member today!